Get prices on engine exchanges
Exchange Engines Lonsdale
JKS Mechanical and Towing specialise in engine exchange for all makes and models of cars and 4WD.  With a huge range of reconditioned engines in stock for Toyota, Nissan, Ford, Mazda, Mitsubishi we can quickly exchange your worn engine for a fully reconditioned one and have you back on the road in no time.
Working on car restoration project and need specialist help or parts?  With a fully equipped machine shop, we have all the latest machinery to strip, clean and recondition your existing engine.  From petrol to turbo diesel engines, performance engines or cylinder head replacements you will find all your mechanical requirements can be taken care off by the experts at JKS Mechanical and Towing in Lonsdale.
All reconditioned engine exchanges have been stripped and cleaned, any worn parts are replaced, and the internal surfaces of the cylinders are machined to produce the optimum seal around the cylinders. For added peace of mind, all exchange engines come with a one-year unlimited KM guarantee.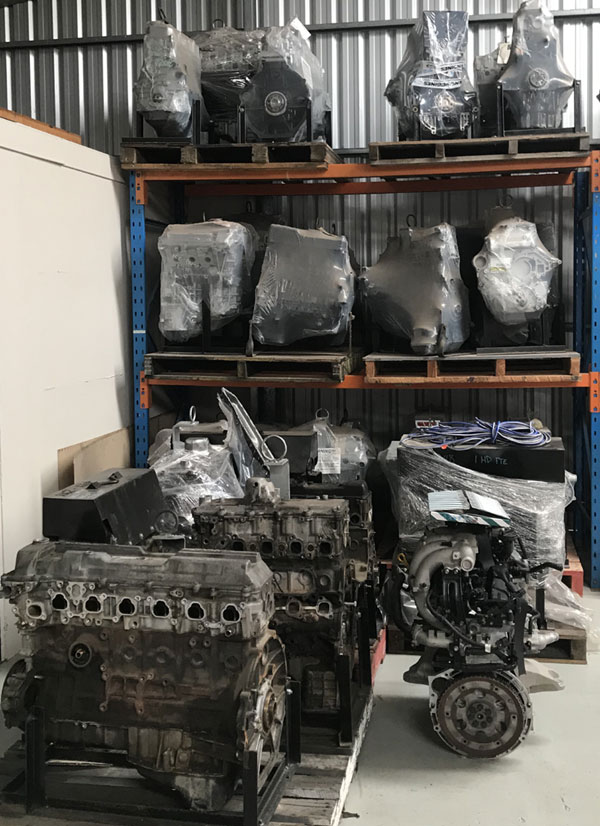 Engine Replacement – Danger Signs
There are some danger signs to look out for that may indicate that an engine is coming towards the end of its usable life and needs to be replaced.
Oil Consumption, excessive white smoke & low oil pressure
The most common symptoms of potential engine failure are excessive oil consumption (constantly having to top up your oil and add more than 1 litre at a time) along with excessive white or black smoke billowing from the exhaust.  These symptoms usually indicate worn piston rings.  When the piston rings wear out, they no longer 'seal' the cylinders resulting in oil being burned in with the fuel in the cylinder, hence the need for regular oil top ups and excessive coloured smoke coming from the exhaust.
Knocking & tapping sound coming from the engine
Knocking and tapping sounds coming from the engine tends to indicate worn bearings which can cause catastrophic failure of the engine.  Always have any strange sounds from the engine checked out by a trusted mechanic.  All the moving parts of the engine (e.g. rods, pistons and crankshaft) are mounted on the bearings so any damage to these can result in complete engine failure.
Diesel Engine Replacements
Late model 4WD or commercial van / ute? We stock all types of replacement engines including turbo diesel engine replacements.  We can cost-effectively change over your worn engine for a reconditioned one at a fraction of the cost of buying a replacement vehicle.  With a huge selection of petrol and diesel in stock, your exchange Toyota, Nissan, Mitsubishi, Ford and Isuzu engine is on hand at JKS Mechanical and Towing in Lonsdale.   
Call JKS Mechanical & Towing
Give us a call for a free quote
Call us for further information
0438 436 196